Hunting, trading, capturing, and slaughtering wild animals can be convicted by the law. If people conduct these activities with threatened species, they can be sentenced to prison regulated by the criminal law.
On 17 June 2021, the Center for Wildlife Rehabilitation and Organism Development received and rehabilitated two otters that were in the intelligence of police. These otters were captured in the Chon Thanh district of the Binh Phuoc province. Authorities are investigating to clarify the origin of these otters to decide the serious level of the violation. After the investigation process, the violator will be judged following the law.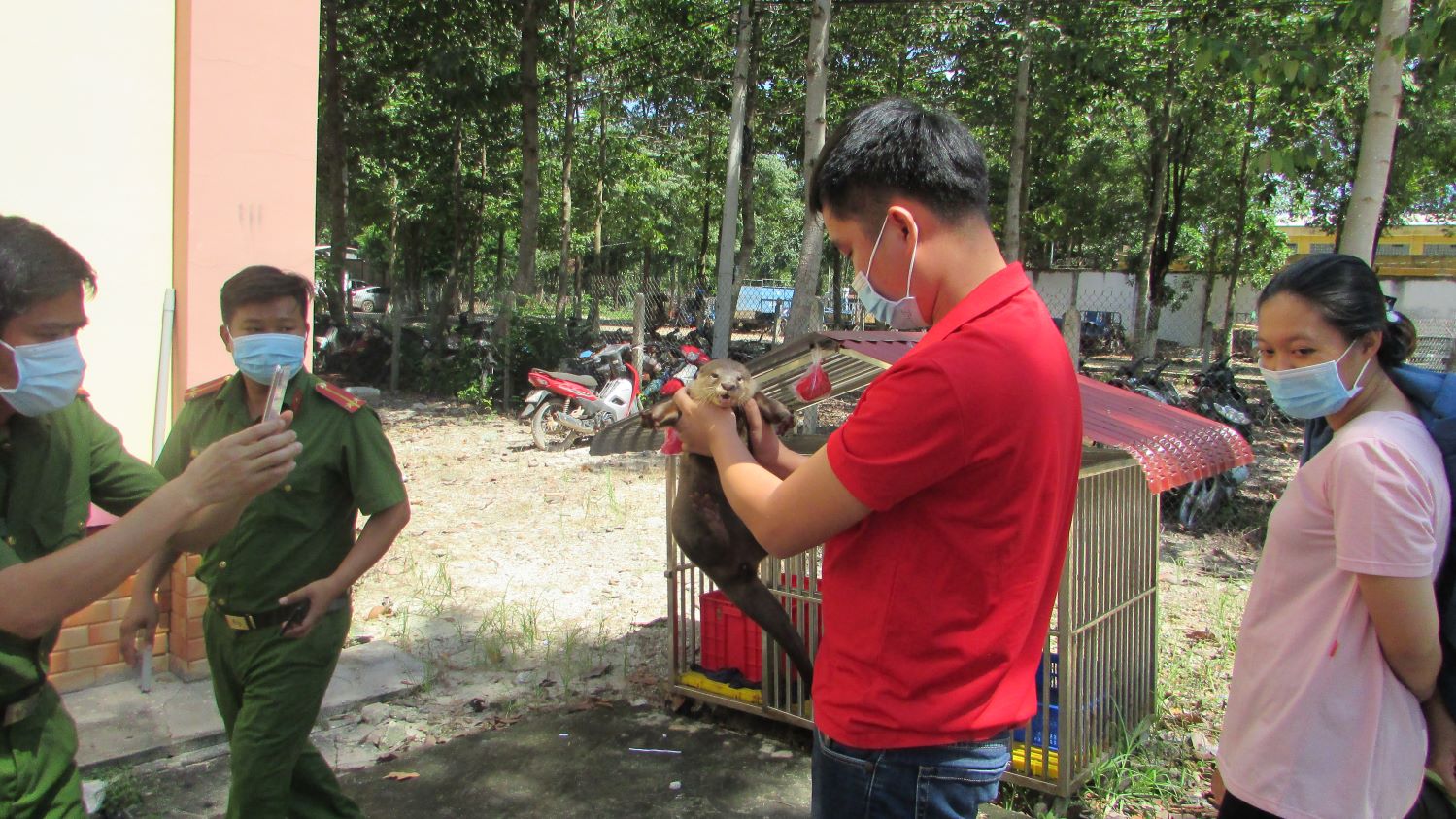 Police took the pictures of the otters
These otters were seized from a violated case of "Violation of the regulation on managing and protecting wild animals that are endangered, rare, and valuable" in Chon Thanh town, Chon Thanh District, Binh Phuoc province. The violator was Mai Van Khoa who lives in Group 2, Chon Thanh town, Chon Thanh District, Binh Phuoc province. Police are investigating and clarifying to prosecute following the regulations of the law. Khoa said that he bought the two otters from Ho Chi Minh City for three years through social media.
Two otters raised by the violator
The Criminal Law 2015 indicates a violation of activities related to wild animals belonging to Group IB and CITES. Violated activities include hunting, killing, capturing, trafficking, and trading. Article 224 defines that individuals and organizations who violate the law can be fined from 500.000.000 to 2.000.000.000 VND or sentenced to prison from 01 to 5 years, 5 – 10 years, or 10 – 15 years depending on the seriousness of the violation.
Otters are domesticated and raised as pets
Organizations and individuals may have different activities related to wild animals. These activities must obey the procedures and documents regulated by the law. Handling wild animals without evidence of their origin to authorized organizations is the only way to avoid the punishment of the law. Information related to hunting, trafficking, trading, and storing can be sent to the hotline 1800 152, forest rangers, or Center for Wildlife Rehabilitation.